Monday 3/20
Alanna Mosley ×
Hopson Plantation Commissary
The Hopson Plantation Commissary stands today in much the same condition as in its glory days over fifty years ago. The building is full of antique and historical items which create a nostalgic atmosphere reminiscent of the deep south Delta. In 1935 the Hopson Plantation began a monumental changeover to become one of the first completely mechanized cotton operations in the world. In the fall of 1944, International Harvester introduced the first cotton picker on the Hopson farm making it the first in the world to grow and harvest a commercial acreage of cotton produced completely by mechanical methods. Today the commissary has indoor and outdoor stages with weekly entertainment and is available for dinners and receptions.
http://www.hopsonplantation.com
×
Earnest 'Guitar' Roy ×
Bluesberry Cafe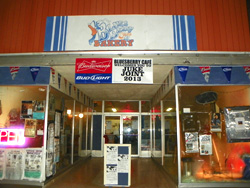 Blues Berry Cafe 1st place winners 2007 Jubliee BBQ Cook Off Past Performers: Malted Milk Band, Lala , Incode, Super Chikan and The Fighting Cocks, Heavy Suga, Razor Blade, Shake it Like A Caveman, The Blind Ducks, Jeff Lewis, and many more. Good Food, Good Music, Good Drinks, = Good Times
https://www.facebook.com/Bluesberry-CAFE-245591678792724/
×
Tuesday 3/21
Frenchie Blues ×
Hambone Gallery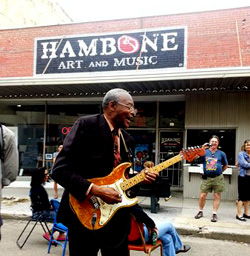 "Hambone Art Gallery" and bar, Artwork by Stan Street , is located at 111 East Second St.,between Madidi's and Theo's Rock and Roll Museum . Formerly Conerly shoes [ co- owned by Charlie Conerly, quarterback of the New York Giants and Old Miss.] Before that, the building was the old Delta theatre. Owners Stan and Dixie Street moved to Clarksdale from So. Florida. Both blues musicians, they were drawn here by the city's historical roots. Stan is a poster designer for many roots and blues festivals throughout the U.S. and Canada. The Artwork is mostly musical, but the Gallery also has landscapes from the Delta, Abstracts, and ecclectic Found Object pieces.
http://www.stanstreet.com/index.html
×